Our services for startups
Running a growing company takes a lot of time and requires extreme focus on the right things. When you are leading a high-growth company, you need to concentrate on your customers, team, business plan and product development. In a fast-changing environment there are always other pressing matters that also need to be looked into, such as different legal documents, market-entry planning, audit services and tax issues.
When you work with PwC you know you always have a professional who you can turn to. We have dedicated teams and experts serving startups; so you know we are well attuned to the challenges you face, from the start-up phase through to establishing a successful market presence. With us you always have contacts to professionals around the globe and different market areas. 
 
From ideas to success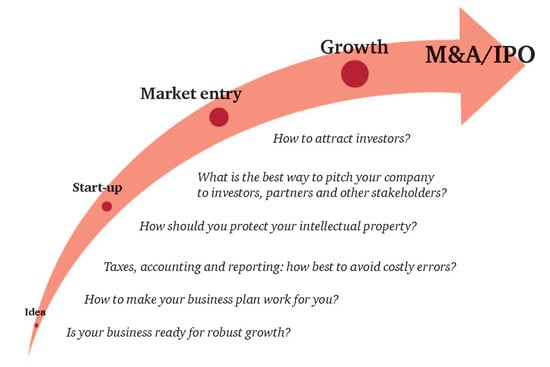 There are many ways we can help you in starting and expanding your business. Here are some of the things you might be interested in:
Legal advice on selecting an appropriate legal form for your company, preparing and reviewing legal documents and business contracts
Legal counsel services for a specific time; for a day, for a week, for a month or longer – depending on your needs
Identifying and approaching the right customers in new market areas (such as in the US)
Analyzing your long-term plans and market strategy, and reviewing your business plan from the point of view of potential investors
Preparing an optimal transaction structure taking into account all tax and legal risks
Getting the most out of your reporting and financial information for stakeholders, investors and partners.
We also hold workshops and training sessions that focus on a variety of business issues. 
Contact us to get answers to a wide range of critical questions:
Auditing



Markku Katajisto
Tel. +358 50 327 1696
markku.katajisto@fi.pwc.com
 
Business Models



Pekka Pesonen
Tel. +358 (0)20 787 7515
pekka.v.pesonen@fi.pwc.com
Legal Services



Maria Parker
Tel. +358 40 726 8707
maria.parker@fi.pwc.com
Tax



Juha Laitinen
Tel. +358 50 563 9020
juha.laitinen@fi.pwc.com
Russian Desk



Ulla Haverinen
Tel. +358 50 436 1910
ulla.haverinen@fi.pwc.com
PwC Network



Marko Korkiakoski
Tel. +358 50 368 4530
marko.korkiakoski@fi.pwc.com